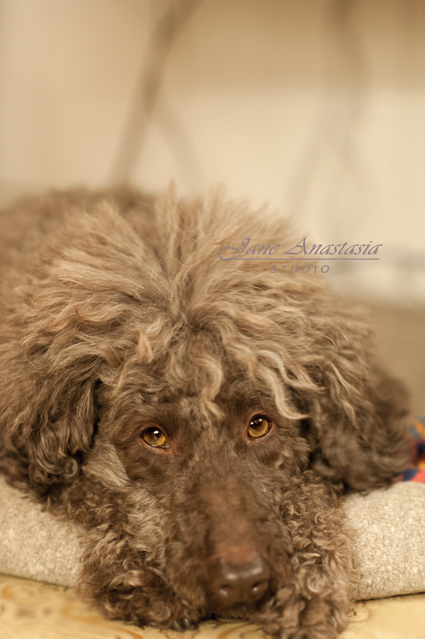 My name is Jane Anastasia and this is Boucle (pronounced Bouclay).  Also known and loved as sweetie-pie.
This blog is all about sweetie-pie.
…a love story. The life and times of Boucle and me…………
Boucle is a mini brown poodle and was born April 2006.   His beautiful mother was named T.C, short for Tender Cookie.  She was a wonderful poodle, who followed me around when I visited.  Soft and gentle, I felt she was very much ok with me taking care of one of her babies. When Boucle came home with me, he was a bright, energetic and rambunctious poodle.  Boy, did he love doing new doggie things.  He loved digging.  Every time he went out, he was digging a new hole.  'No Boucle, no digging!"  And he would look at me with a mischievous twinkle in his eye…and start digging again!:) LOL.
We have had so much fun together through the years. Each day he brings me a smile, no matter the kind of day it has been.  He is now so cuddly, loyal, sweet and good.  Really really good.  And he tries so hard to be good.  You can see sometimes that it is a real struggle, that he wants to do something desperately, like chase the cat or squirrel while on a walk, yet he holds back and just looks.  So so good my sweetie-pie:)
Boucle and I would like you to share in our many good moments throughout our years together, and our blog will be filled with a mix of new and old photos.
If you know someone who, due to life circumstances cannot have a dog,….. but loves dogs, and remembers their dogs, and wishes for a dog……..then introduce them to Boucle's blog.  Boucle has  so much goodness, and, so much to share with those who love dogs.
Boucle and I send you lots of warmth and licks….
Best Jane & Boucle
COPYRIGHT NOTICE © Jane Anastasia Studio © All rights reserved / © Tous droits réservés  All images within this blog are protected under Canadian copyright laws and international conventions. No portion of my work may be downloaded, reproduced, published, copied, manipulated, linked or transferred electronically or used in any way without my written permission